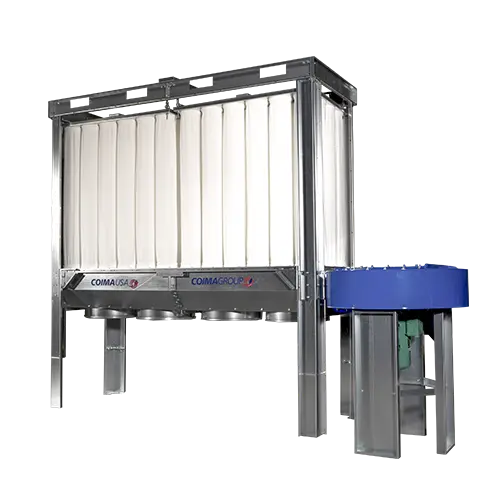 The bag filtering units are suitable to solve the problem of sawdust filtering and collection with a low budget. They are ideal for indoor use (please check the local rules) in smaller woodshops, or for localized extraction from some specific woodworking machineries, or even for outdoor installation if buying the external fairing (optional).
The modular structure of these filters is made of hot-dip galvanized sheet steel and it is composed by 2 main sections: the filtering battery in the upper part, including the anti-static polyester sleeves, with shaker cleaning system which maintains the filters efficiency automatically; the lower part including plastic bags to collect the wastes. The collection bags can be replaced (optionally) by a collection hopper with motorized screw extractor and rotary air lock, for a continuous discharge of the waste into some other collection device or system
The integrated fan is equipped with a big impeller and a 4 poles 1500 rpm (except SHK1) noiseless motor, rated IP55 as protection and IE3 as efficiency.
The control panel, compliant with CE rules, controls the fan and the shaker cleaning system, the latter being automatically started each time the fan is switched off.
NOTA: Bag filters are not sold in ATEX version; for ATEX compliant units please refer to "F250-320-380-450" compact filters series.
Vuoi ricevere informazioni su questo prodotto?