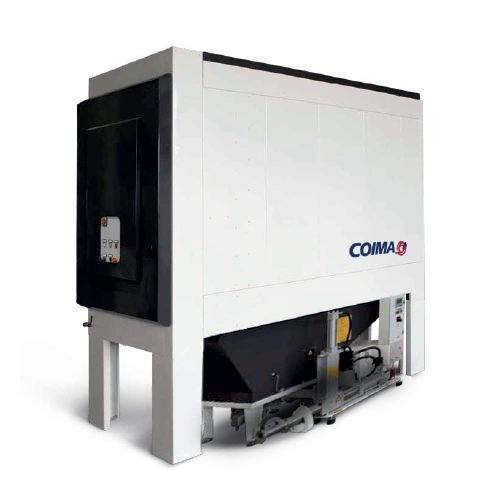 Compact internal dust extractor - briquetter version
Reliable, silent, and easy to install and to use. The F compact range has been designed with the aim of optimizing the extraction efficiency reducing at minimum the unit sizes. F SERIES is suitable for the extraction of chips and dust of various natures, optimal for the filtration of medium-fine particles.
They can be installed inside the workshop (please check the local rules) or even outside.
These filters are conceived to work in negative pressure, and they allow to reach depression values higher than other filtering units on the market while keeping maximum silence.
The unit is made up of galvanized painted panels and it is equipped with:
– air settling chamber at the inlet, to protect the filters from the impact with the transported materials.
– non-return valve (not certified), to avoid any pressure return to the workshop.
– high-density anti-static polyester filtering sleeves (500 gr / m) or cartridges (270 gr / m2) upon model.
– filters cleaning system by countercurrent compressed air jet pulses, blown during the extraction running.
– soundproof high-efficiency centrifugal backward curved fan, installed internally on the clean air side.
– fire-fighting system to be connected to the hydraulic circuit, with sprinklers inside the filter;
– continuous waste discharge in an intermediate hopper with inspection window and door;
– briquetting machine installed underneath the filtering battery, equipped with level probe for automatic start/stop, cylinder emptying at the end of cycle, oil pre-heating for outdoor installation, automatic loading adjustment, PLC control panel with touchscreen.
ATEX version includes:
– ATEX II 3D certified fan;
– ATEX anti-static polyester filtering sleeves (or cartridges);
– an anti-explosion panel with break-detection probe.
Vuoi ricevere informazioni su questo prodotto?