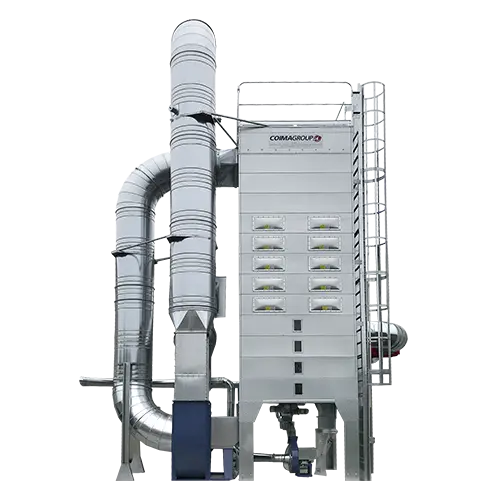 Filtering and storing minisilo with compressed air filter cleaning
The COIMA Minisilo in an integrated unit for chip filtration and storage. It's made of modular galvanized sheet panels; it is conceived to work in negative pressure (with the fan on the clean air side) and it's suitable also for positive pressure installation.
The upper section includes a filtering battery made of polyester filtering sleeves, equipped with anticlogging system for the sleeves cleaning by countercurrent compressed-air jetpulses, automatically activated when needed, on the basis of the clogging degree of the sleeves.
The lower section is the waste storage chamber, equipped with flat bottom to support the multileaf double spring extractor. The rotating springs, made of harmonic steel, move the waste toward 3 possible simultaneous hopper outlets. One outlet is automatically connected to a plastic bag (or big-bag on demand) for an emergency discharge, while the 2 remaining outlets allow several additional emptying ways. Lexan windows allow visual inspection of the material within the silo, and an electric level indicator allows to check the maximum filling level.
The Minisilo is also provided with ATEX anti-explosion panels, a ladder with landing and door for convenient access to the filtering surface; the latter is equipped with dry pipe connected to the fire-fighting nozzles that are installed in the upper part of the filtering unit.
In option, the unit can be equipped with air settling chamber at the inlet (equipped with anti-explosion ATEX panels), in order to protect the sleeves from the impact with the tranported materials, and to get a first decoupling against the explosion return.
In order to achieve an optimal extraction performance we have coupled the unit to a very high efficiency centrifugal backward curved fan, to be installed on the clean air side. The fan is rated for S1 duty cycle (continuous running) and it features an IE3 efficiency and IP55 protection primary brand motor.
ATEX version includes:
– ATEX II 3D certified fan;
– ATEX anti-static polyester filtering sleeves.
PLEASE NOTE : COIMA Minisilos in ATEX version are perfectly compliant with EN12779-2015 rule into force.
Diagonal screw in option.
Vuoi ricevere informazioni su questo prodotto?