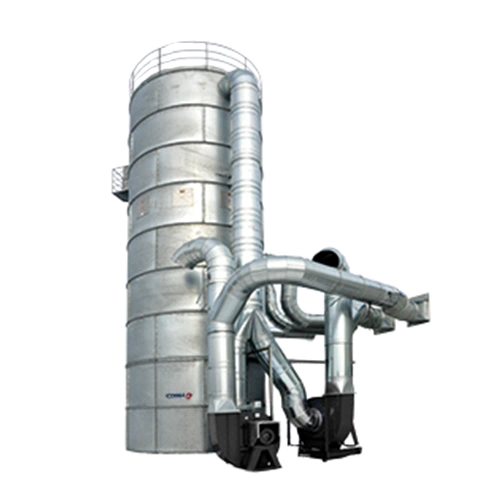 Filtering silo with electromechanical cleaning of filters
Sleeve filtering silos, made of calendered sturdy and hot-dip galvanized steel sheet. Ideal for the filtration of medium-fine particles and equipped with:
– filtering battery (in the upper part) with electromechanical shaking cleaning with eccentric motor;
– ladder, platform and large door with watertight closure for convenient access to the walking surface of the filtering battery during maintenance operations;
– storage chamber (20 to 500 m3 capacity) with cardan motorized extractor (up to 140 m3) or forced movement through pneumatic system (extremely sturdy, up to 500 mc);
– the latter, thanks to an intermediate buffer, allows 3 distinct discharge modes that can also be used simultaneously (briquetting machine, pneumatic or mechanical transfer, etc.).
The standard version includes complete safety systems against fire and explosion such as: Atex explosion-proof panels and fire water ring complete with sprinklers.
Suitable for operation in both positive and negative pressure.
Models up to 120,000 m3/h of air capacity.
Vuoi ricevere informazioni su questo prodotto?