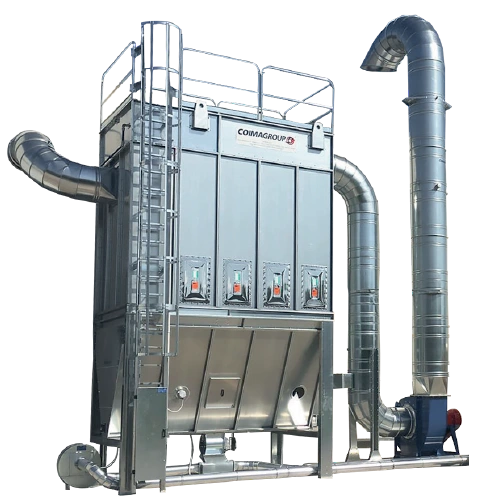 Atex dust extractor with compressed air filter cleaning
This filtering unit is made of high-thickness galvanized steel framework and fairing. It is conceived to work in negative pressure (with the fan on the clean air side).
It is suitable for the extraction of medium-fine particles, and it is equipped with:
– air settling chamber (except UPD120 model) at the inlet, in order to protect the filters from the impact with the transported materials.
– high-density (500 g/sqm) ATEX anti-static polyester filtering sleeves.
– filters cleaning system by countercurrent compressed air jet pulses, automatically activated by a programmable control box when needed, on the basis of the clogging degree of the sleeves, and also, during the extraction running;
– lower hopper for waste collecting and emptying, with motorized screw (except UPD120 model) and rotary air-lock valve, inspection door, and safety level indicator;
– security ladder and fenced platform on the roof, with airtight large doors fitted with gas springs, for an easy access to the filtering battery for maintenance purposes.
– anti-explosion ATEX panels and fire-fighting dry-pipe connected to internal diffusing nozzles.
– high efficiency ATEX II 3D fan installed on the clean air side: it allows to reach depression values higher than other filtering units on the market while keeping fair noise level.
Models up to 300.000 cm/h (176,573 cfm) of filtering capacity (on demand).
Suitable for operation in both positive and negative pressure.
Models up to 300,000 m3/h of air capacity.
Vuoi ricevere informazioni su questo prodotto?